Ok, this is a threat to suggest some expansions for the Beastman rooster of units. I know many people dislike the Beastmen faction but I wanted to get this out.
Beastmen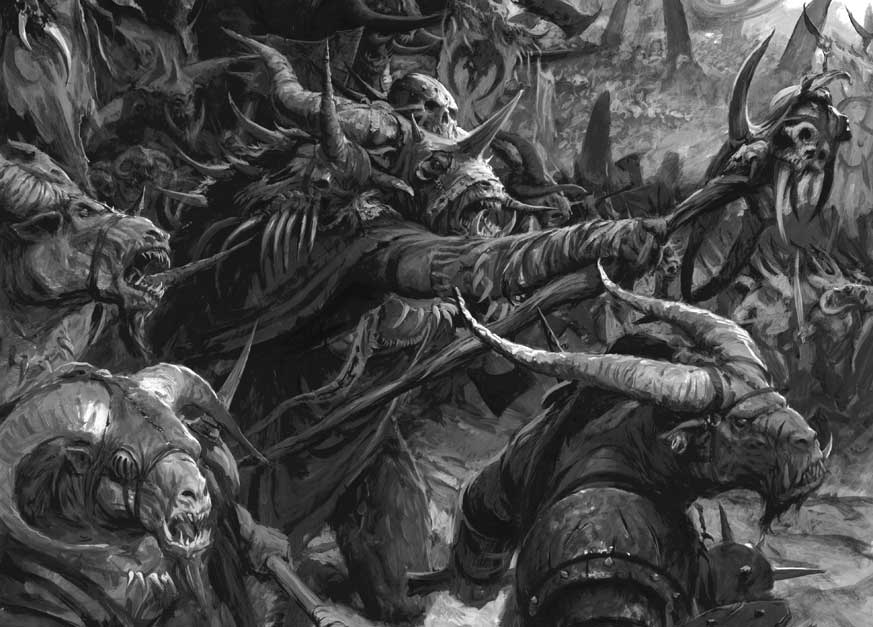 Units
Infantry - One thing is that I'd suggest is perhaps to break up the Beastman hordes with some less Gors instead of Ungors and diversify their equipment a bit to make them a challenge to fight without relying simply on massive numbers to that trick.
Gors with shields
Gors with two weapons
Ungors with hand weapons
Elite
Bovigor - Essentially a Gor with a bull head and with chain mail and some nice weapons and a bit better stats
Pestigor - Like a Bestigor but without the charge and more HP, in addition it could use a two-handed axe as its weapon with some attack and tricks.
PS: I loved the part about the design of the Bretonnian longsword attacks and such from medieval longsword manuals. Keep that stuff coming!
Specials
Beastman Swarmhost - Shoots flies at the heroes
Ungor Netter - Runs up and throws a net over a hero to immobolize it
Bray-Shaman ideas based on the "Lore of th Wild" spells
Beastial Surge - Increase Beastmen movement
Viletide - Shoot swarms of flies at heroes, same as the "Beastman Swarmhost" idea above but with a shaman doing it instead
Devolve - Drain hero stamin in exchange for increased attack speed by the heroes
Bray Scream - A sound wave that reduces the heroe stamina and potentially staggers them
Traitor-kin - Caused targeted hero to do friendly fire with melee attacks
Mantle of Ghorok - Select a Beastman creature and boost that creature greatly
Savage Dominion - Spawn a Beastman faction monster. Presumably one at a time and with perhaps 10-15 seconds between the death of one monster and that the Bray-Shaman starts to summon another.
Monsters
Chimerae
Cygor - Possibly to similar to the Minotaur
Jabberslythe
Jabberwock
Manticore
Preyton
Sources
Warhammer Wiki
Beastmen Army Book (7th edition)