Frankly I'm frustrated at the amount of times enemies spawn DIRECTLY in front of the player, resulting in a wipe. I know it's a tough issue to fix, but come on man, you guys fixed this exact problem in Vermintide 2. How has this come back?
Here's a clip of a Heresy run that got ended because 2 crushers, 2 ragers, and a horde of enemies spawned RIGHT NEXT TO A TEAMMATE as they were going for a rescue.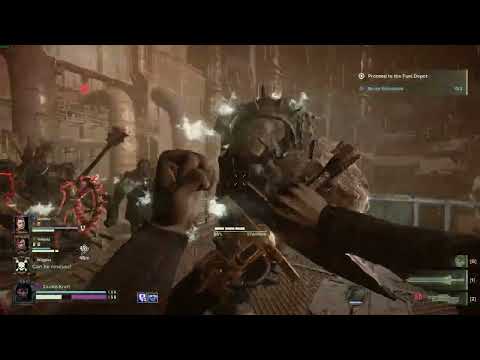 There have been SO MANY other runs where it got ended because
A) A sniper spawned pre-aimed at a target and instantly shot, killing a player (Sometimes even directly in front)
B) A group of ragers/ogryns spawn next to someone, instantly killing them
C) A group of ranged enemies spawn while you're in the open, resulting in a hailstorm of bullets that instantly kill
I can deal with enemies spawning from doors next to me. I can counterplay that.
Hell, I can even counterplay snipers spawning in front at times as long as I'm not rezzing or rescuing.
But this is complete BS. What am I supposed to do here? If we woulda seen these enemies earlier we would have taken them out at a safe distance, but since my teammate already dropped I had to group up or get eaten from the hound (Because they're also broken af)
I want to do higher difficulty missions, but if this is how it's gonna be then it's not even worth doing.