Heroes!
It's that time of the year again where we celebrate the digital world of Warhammer through the annual Skulls event! Read on to find out what we're doing in-game and when to tune in to the showcase for more Vermintide 2 news!
What is Warhammer Skulls?
Warhammer Skulls kicks off officially May 25 through June 1 2023! Every year, Warhammer Community celebrates all the best Warhammer video games, whether they're upcoming or out now. With sneak peeks, previews, and free stuff for literally dozens of games set across the worlds of Warhammer.
Don't forget to tune in to the Skulls Showcase over on www.twitch.tv/warhammer at 5pm UK time (9am Pacific time) on May 25th to check out a whole bunch of Warhammer game news covering new game releases as well as updates coming to your favourite Warhammer games such as
Warhammer: Vermintide 2 and Warhammer 40,000: Darktide.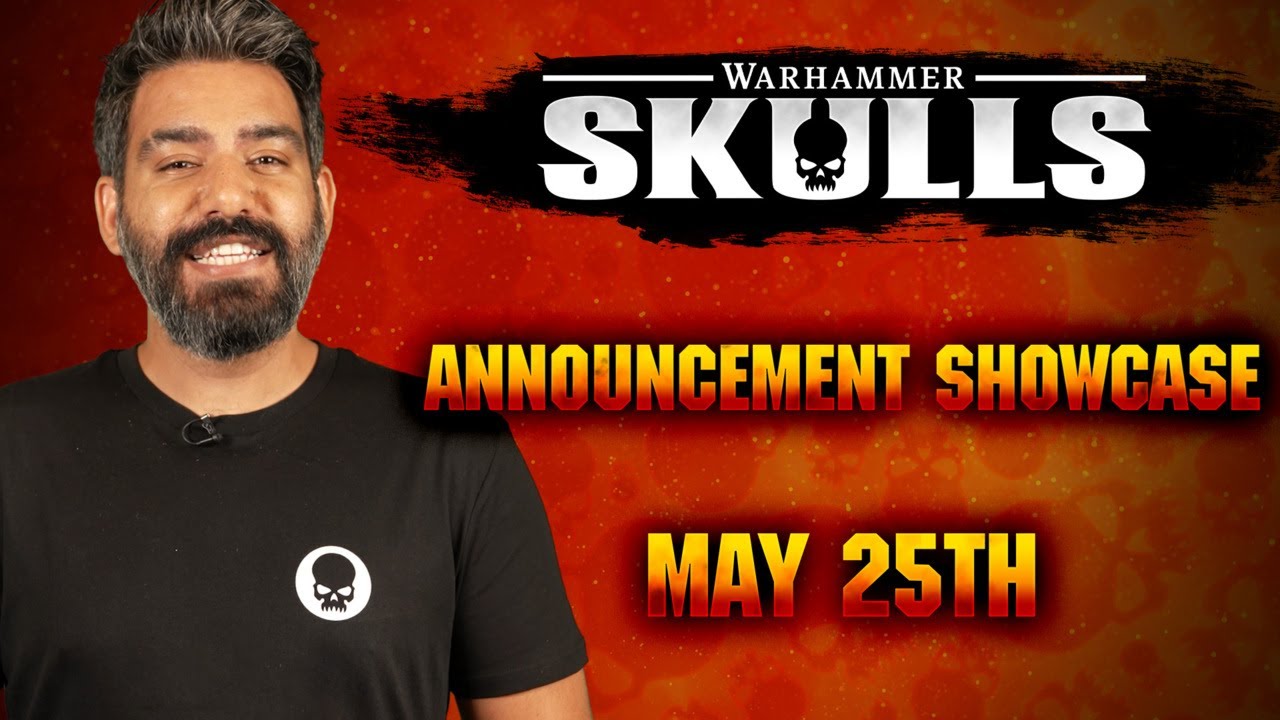 Skulls In-Game Event
Between May 25th and June 4th 2023 join us in Helmgart as we extend the celebration with new and updated seasonal event happenings in Vermintide 2!
Taal's Horn Keep will receive a thematic dressing of skulls, skulls and more skulls! Best not to ask where Lohner gets these from …
The maps are seemingly littered with Daemon Skulls. Pick these up and you're in for a surprise or two, perhaps being blessed with a movement or combat effectiveness buff. Perhaps a debuff that saps your life when your never-ending lust to dominate and destroy takes too long a pause * (see below for details). Nothing could go wrong if you grab too many though, right?
Complete in-game challenges and unlock an event exclusive portrait frame you can use all year round!
Last but not least, unleash your inner Khornite and rally together to complete the Kill Counter in time to unlock five exclusive weapon illusions. You can check the progress of the community challenge over on our website or through the game launcher. BLOOD FOR THE BLOOD GOD! SKULLS FOR THE SKULL THRONE!
Reimplemented 'Bloodshot' affecting True Flight Volley properly increasing the amount of arrows shot by 1.
Improved target selection of homing projectiles like True Flight Volley and The Burning Head causing them to prioritize elites and specials more when being shot without a target.
Fixed a crash that could occur when quitting game during the Prologue.
Fixed various other miscellaneous crashes.
*Daemon Skulls effects
(active between May 25th and June 4th)
Picking up skulls can give various buffs at random (and a debuff); these being:
15% Power Level
12% Attack Speed
20% Crit Chance
20% Movement Speed
25% Cooldown Regeneration
Suffering intense damage over time when the player has not killed stuff in a while is active once buffs are applied.
D̷̙̫̪̝͙̹̮o̳͔̮̫̤̬͔n̬̞̹̬͎͖̥̼̱'̀͏̩̼̫͕͔ͅt͓͔̩̰͓́͝ ̢̛̩̠̘̳͕̣͝p͏̰̣̖ì͉͖͓̗̯̤̤͝ç̻̪̣͔̖̮k͍̝͟͢ ̛͏̵͔̻̱ú͍̬͓̞͎p̴̮͇̥͜ ̴̫̟̺͇̮̘͈t͚̜͈͓͚̀ò̡̲̼͍̝͍̱͖̺̀o̝͓̩͘ ̢̙̻͈̖̤̼̩͔̼͜m̲̠á̵̱̣ͅń͈̘͔͔̝͍͔͕ͅy̡̺ ̳̮͕͇͕͟͞s͈̫̺̖̩͜͞k̶̗ͅu̵̘̫̖̩̪l̨̜̖̥͢ĺ̰͓̀͝ś̗̖̪͓!̨̞̞͈̗
This weekend (May 27th & 28th) the Onslaught Series takes over the airwaves on www.twitch.tv/fatsharkgames. Tune in to see some of the best take on the toughest challenges modded Vermintide 2 has to offer - where fools come to die in glory or live in anguish!
Are you interested in taking part in future tournaments? Jump in to the Onslaught Discord to see what it's about and get updated on future events!
On May 27th during the Stream, Vermintide 2 Producer Sacha will join to talk about what's been revealed during the Skulls Showcase… there's a bit to unpack so be sure to tune in!