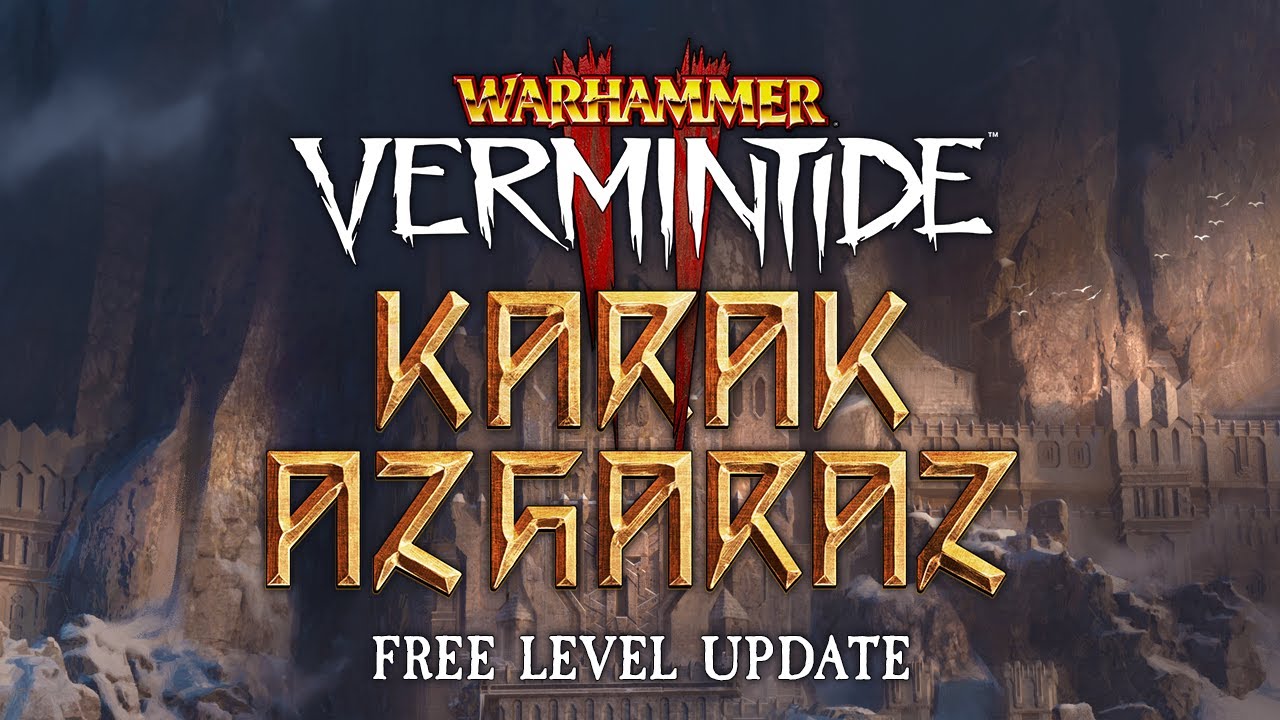 Karak Azgaraz - Free DLC
Three remastered levels to explore - Revisit Khazid Kro in three fan-favorite adventure maps, newly remastered specifically for Warhammer: Vermintide 2.
New Okri's Challenges & rewards - Challenge yourself with new Okri's Challenges and show your accomplishments with new Keep paintings and animated portrait frames.
New Trophies / Achievements - Explore the new content and earn platform specific Trophies / Achievements!

Helms of the Valorous - Available Now in Lohner's Emporium & PSN Store - Coming Soon for Xbox Stores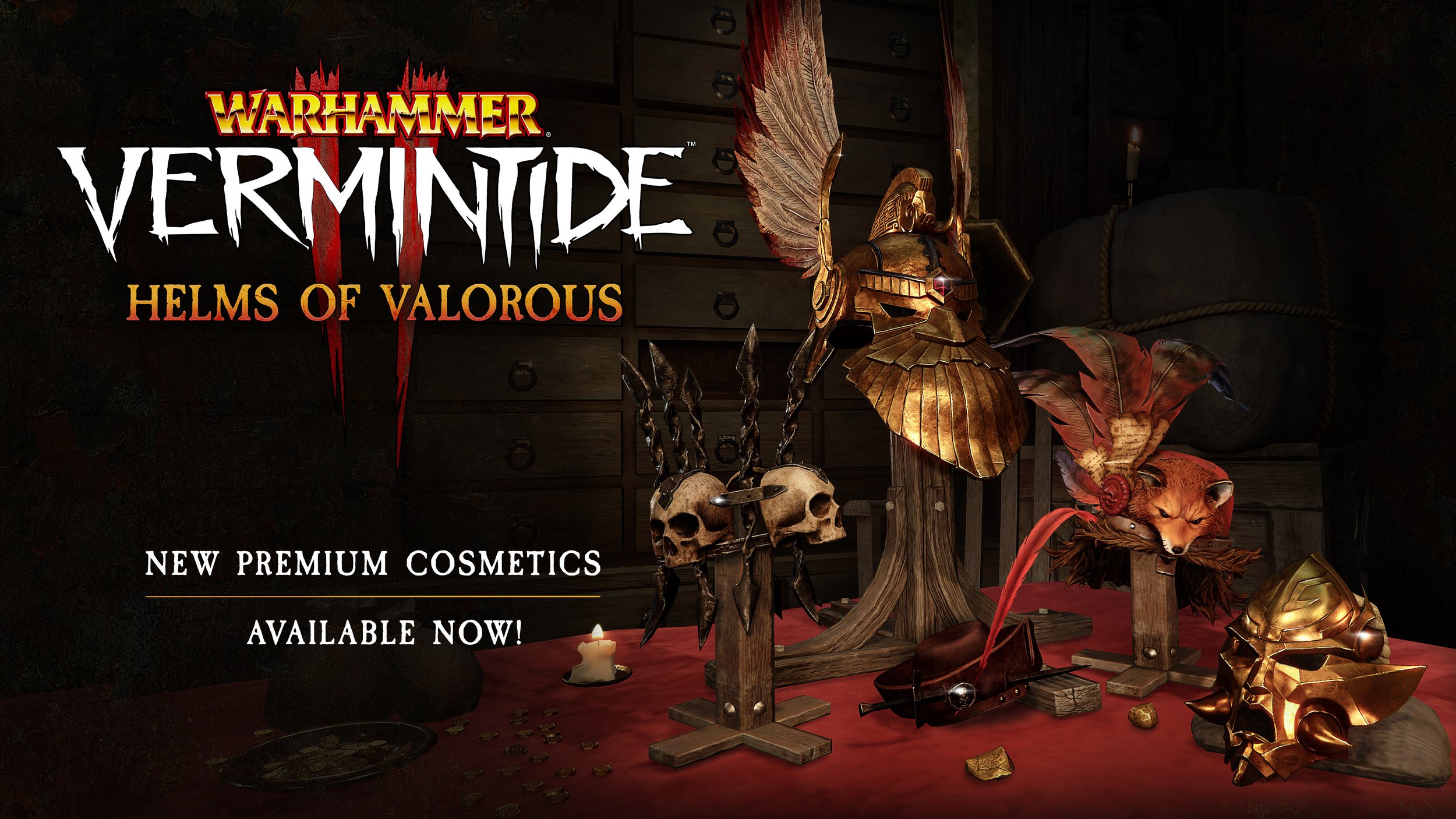 These are only available on PS4 at present and will release for Xbox One in the coming days!
Equip your heroes in the adornments styled only for the most brave and valiant of adventurers. The Helms of the Valorous collection contains 5 premium cosmetics - one hat each for Bardin Goreksson's Ironbreaker career, Kerillian's Shade career, Markus Kruber's Huntsman career, Sienna Fuegonasus' Battle Wizard career, and Victor Saltzpyre's Bounty Hunter career.
The Lost Helm of Karak-Hirn - Ironbreaker Hat: I don't know. Can't put a thing down for five minutes without someone stealing it and putting it up for sale…
Gladiatorial Gaze - Shade Hat: There's no mistaking the gilded mask of one who pledges themselves to Eldrazor, the Lord of Blades.
Sneaker's Helm - Huntsman Hat: Some hunters believe that adopting a fox as their totem makes them sneakier. It certainly makes them look distinctive when seen.
Tri-Skull Crown - Battle Wizard Hat: A Bright Wizard seldom has a shortage of skulls close to hand, although most will need wiping clean first.
Tax Collector's Cap - Bounty Hunter Hat: Always have a dagger close to hand. You never know when someone's going to seek a rebate.
These are only available on PS4 at present and will release for Xbox One in the coming days!

---
Xbox CU49 / PS4 1.39 - Patch Notes (~12.2 GB)
Features, Tweaks and Fixes
Added a new setting, Weapon Trail VFX, to control what first-person weapon visual effects are shown on melee weapon attacks. It has 3 levels: Normal, Disabled for criticals, Off for all effects.
The scoreboard now shows the completed level and difficulty.
Added visuals to players who are affected by burning damage over time.
Fixed Witch Hunter Captain Saltzpyre's "Heretic Sighted" talent refreshing when tag duration ends and triggering on tagging downed allies.
The Heroic Masquerade Collection bundle should now correctly include Sienna's Thyrus Gormann collection.
Fixed an issue where quest objective markers weren't updating for clients in the brewing area of Tower of Treachery.
Fixed some cases where bosses could slide about.
Fixed two missing dialogue sound events for Kruber (subtitles were showing but no sound).
Fixed a rare issue where the same weapon skin would show up multiple times in a player's inventory.
Fixed a bug where two characters could say that they hear a ratling gunner at the same time.
Fixed a crash from firing Waywatcher or Pyromancer ability after aiming it while all nearby enemies die with ragdolls turned off.
Fixed a Twitch mode crash that could happen when connected to a channel with a high amount of chat activity.
Damage dealt by Adept's ability 'Fire Walk' and Unchained's ability 'Living Bomb' now count towards end of round statistics.
Fixed a crash when shooting at Sister of the Thorn's wall on Recruit or Veteran difficulty.
Fixed a crash when client picks up potion at the same time as someone else hands them a new one.
Fixed a crash when using Life Staff lift attack on a dummy in the Keep.
The Crimson Greatsword (Executioner Sword) illusion now has the appropriate icon.
Twitch mode: Changed Spawn Size setting widget from a stepper to a slider, allowing setting values like 199% from in-game. Also bumped up the maximum allowable value from 200% up to 300%. Happy Twitching!
Twitch mode: Added a failsafe against setting the minimum vote time and time between votes externally to prevent crashing.
Fixed "Weapon Trail VFX" not affecting flail skins (Dressad's Roaster, Cruciform Firebox & The Brass Flail). Furthermore, particles on the Feeble Mace have been disabled for consistency with other maces.
Fix a crash that would occur when trying to apply a weapon illusion from a sign in reward in the same session.
Fixed an issue where fire grenade, frag grenade, and explosive barrels dealt damage over time for a longer duration than intended. Lowered DoT instances from 3 to 1 on beings hit by impact damage.
Fix rare crash when spawning orbs in the Chaos Wastes. Orbs are also now much more prone to successfully spawn in complex landscapes.
Fixed ranged weapon proc buffs not triggering on target dummies in the Keep.
Against the Grain: Fixed an issue where enemies could be partially submerged in the ground while progressing the "Reach the Farm" objective.
Festering Ground: Fixed an issue where the skybox looked all kind of jank when viewed from within the Waystone portal at mission's end.
Fortunes of War: Fixed a cheese spot.
Into the Nest: Fixed a spot where players could get stuck.
Skittergate: Fixed an issue where clients who hotjoined during the finale could not see the Skittergate VFX.
Trail of Treachery: Fixed various issues, including places where specials could shoot through walls, enemies floated, pickups could be blocked and more low-key weirdness.
Tower of Treachery: Fixed an issue where a player could hotjoin in to an already completed puzzle and be softlocked from progressing/catching up to the group.
Tower of Treachery: Fixed an branch on a big tree that had no collision but looked really interesting to jump on to.
Tower of Treachery: Fixed some rocks beside the same big tree that had no collision.
Tower of Treachery: Fixed a spot in the library where Saltz could see through a ceiling and kill stuff he shouldn't be able to from such a position.
Tower of Treachery: Fixed the poison pool not dealing any damage to players.
Tower of Treachery: Fixed a potion that didn't spawn appropriately unless the host themselves smashed the vase that encased it.
Tower of Treachery: Fixed an issue where battle music would not wind down in the Library area even when combat had ended.
Tower of Treachery: Fixed an area where players could get out of bounds.
Fixed a crash that would manifest should a player hot join a Tower of Treachery mission if any of the five urns have been destroyed.
Fixed some stability and cosmetics issues with Offline Mode.
Fixed various miscellaneous crashes.
Fixed various localisation issues.